Introduction: The Ready Realty Group believes that the right marketing strategy makes all the difference. We go above and beyond to market your home using all the latest advancements in technology, social media, and publicity strategies to ensure your home reaches the maximum number of potential buyers. More buyers means more offers, bidding wars, and ultimately, more money for you.
Where Buyers Come From: By studying where and how buyers find the home they purchase, we've created our marketing and prospecting plans to ensure every single buyer who could possibly buy a home like yours knows your home is for sale. In fact, we are 100% confident that NO ONE can expose your home to the masses like we can!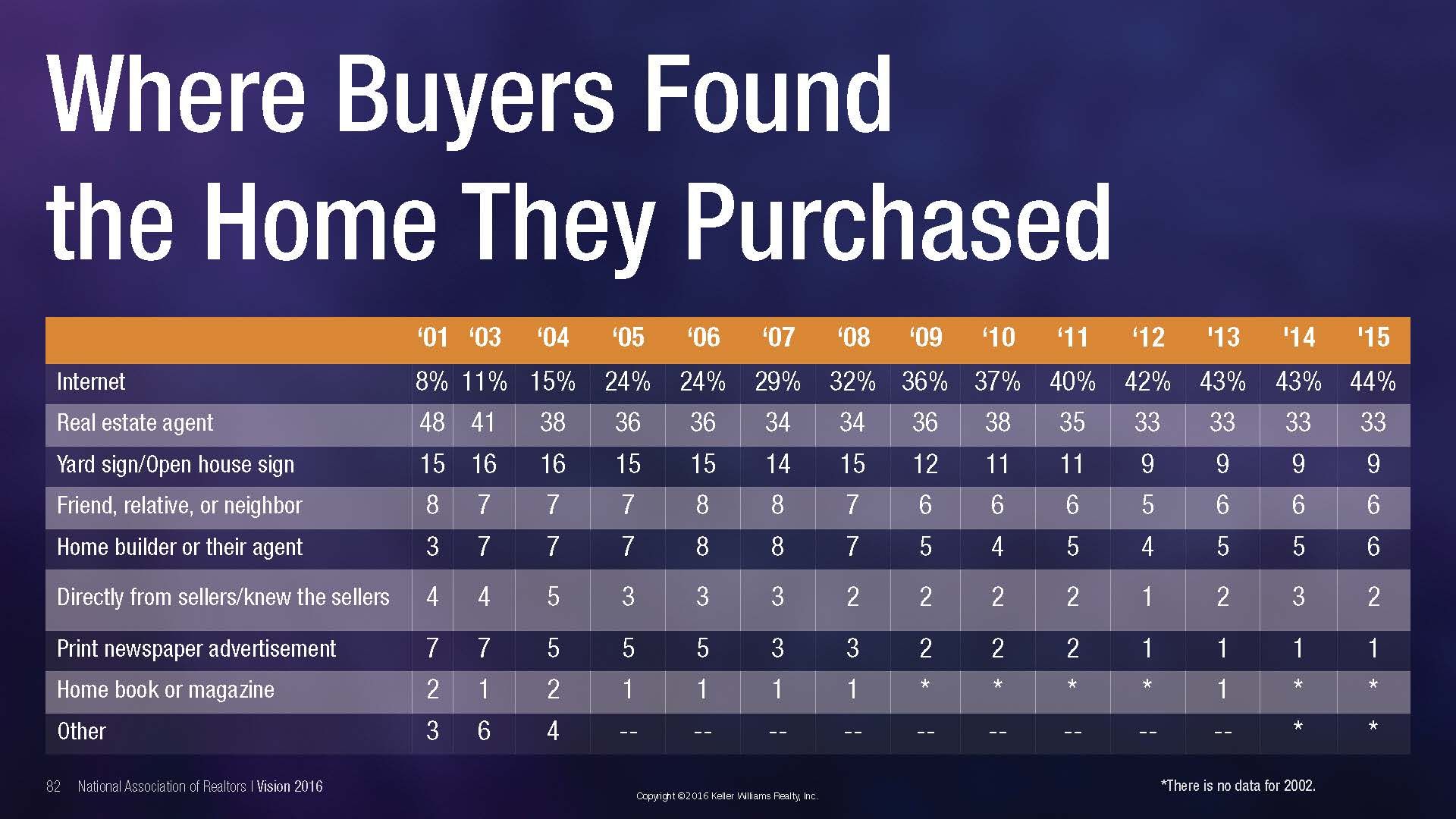 This graph comes from the National Association of Realtors annual study of home buyers and sellers. Since 76% of buyers find their home online (including apps and social media) and through their realtor, we focus heavily on these sources without ignoring the rest!
Platinum Marketing Package
Here is a comprehensive list of our Platinum Marketing and Prospecting Plan:
Pre-List Services:
A complimentary consultation with a professional stager.
A complimentary home cleaning service.
Professional photographs and videos scheduled to be taken of your home.
A market analysis of current competitors, pending sales, and recent comparables to establish the price that would maximize the sale.
Room-by-room analysis of your home to see it through the eyes of a buyer.
In depth demographic study of your home and neighborhood to determine where your best buyer will likely come from.
Access to our list of preferred vendors if any work needs to be done prior to listing your home for sale.
Photos, Aerials, and Videos:
The Matterport 360 degree tour! Now buyers can virtually walk through your home from the comfort of theirs! (example)
Upgraded Professional photography. (example)
Video walk through of the home. (example)
Aerial video of the home. (example)
Your home's virtual tour will be uploaded to our YouTube channel. YouTube is the world's second largest search engine, after Google!
Once your photos are completed, we're able to launch your home's own website and immediately promote it.
Photos editing and retouching available! Brown lawn? Cracked driveway? No problem!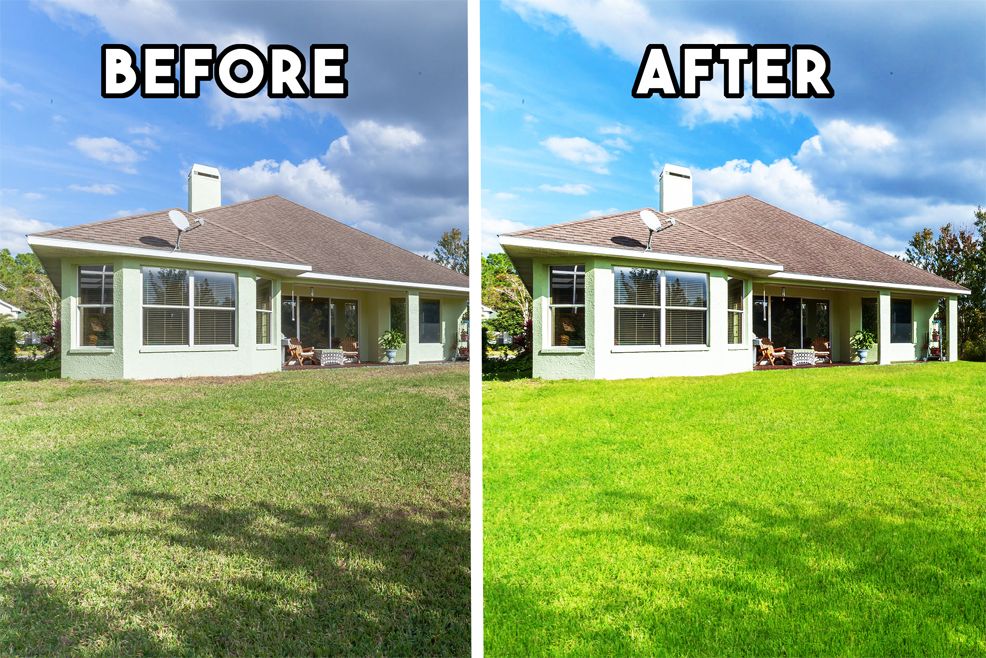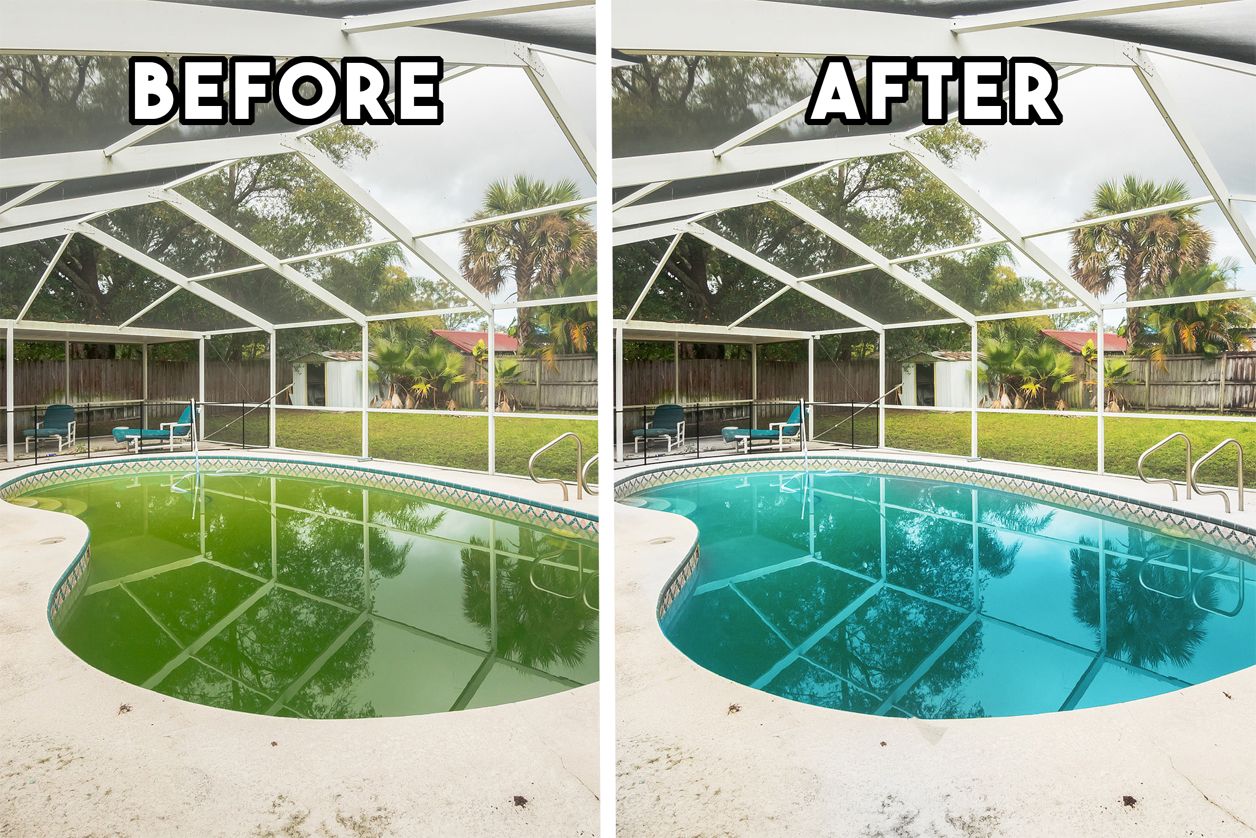 Radio Marketing:
We advertise our listings on our weekly radio show! Tune in to the Tampa Bay Real Estate Experts for everything you need to know about Tampa's real estate market and to hear your home advertised live! Tune into 970 WFLA at 2pm, or listen at your leisure on Soundcloud: link.
Social Media Marketing:
Facebook boosted/promoted posts receive a budget of that reach between 45,000 and 60,000 people. Here is an example. And this one received over 500 likes and was shared over 40 times! Link. Link 2.
Our Facebook page has an audience of 5,000 followers, more than 99% of real estate agents in the the world!
Twitter, LinkedIn, Instagram, and Pinterest promotions.
Professionally written blog post published to our webpage, as well as all social media outlets. Sample blog
Video tour placed on our YouTube Channel and tagged for maximum views and with a link to your home's custom website. Example
Guess the Price/Square Footage Post with a prize. This encourages buyers to look at the home, and the prize draws lots of attention! Example.
Email Marketing:
Coming Soon announcement of your home to our database of over 20,000 people. This list includes the entire board of realtors, our team's past clients and sphere of influence, our vendors, as well as every buyer and seller inquiry we've ever received. That's the equivalent of a medium-sized town!
Eblast announcement for your Broker's Open (if applicable).
Eblast for Open Houses.
All blasts include photos, videos, and links to your custom website.
Since we can see who opens the emails AND who clicks the link, we can then target email campaigns about the home on your specific audience.
Internet Presence:
A custom website dedicated specifically to your property with specific domain name (ex. HydeParkTownhome.info). This domain name is now used on every single piece of marketing we use (both online and offline).
This website comes with information capture, so we know who has been looking at your home and can contact them to tell them about it!
Click here for a sample.
Premium Placement on Zillow, Trulia, and Realtor.com.
Your home will be entered on MLS and KWLS (Keller Williams Listing System), from which it will be syndicated to over 1000 searchable websites and 150,000+ agent web pages worldwide.
Offline Marketing and Prospecting:
We'll arrange for you to have a Broker's Open House for local real estate agents, one of which may bring your buyer! We'll serve refreshments, promote it on social media, blast it to our entire database, and do everything we can to ensure the right agent brings your buyer to see your home before it's even listed.
We'll also host a Premium Open House the first weekend your home is on the market. Consists of: 100-200 phone calls, 1000-2000 voicemail broadcasts, 50 invitations hand delivered to your neighbors, additional facebook and email promotions, refreshments served, two agents present for personal tours. It's the best way to generate a sense of competition in buyers and start a bidding war!
3000-4000 phone calls and voicemail broadcasts made by our team of inside sales associates to promote the website to the following: 1) your neighborhood 2) all the top agents in the area who are likely to represent your buyer 3) neighborhoods most likely to purchase in your neighborhood, as determined by demographic studies and 4) every buyer/buyer lead in our database who's criteria the home fits.
Door knocking the 100 closest homes to yours with info on your home in hand.
Customized signage with up to 12 directional signs strategically placed.
Postcard campaign with 500 cards sent to homes in your neighborhood, announcing the listing and promoting your home's custom webpage.
Full color brochures and flyers created and distributed.
We can track who visits your webpage from our offline marketing. These are normally your hottest prospects (versus the ones who simply click through to see). We can even see who's looking at your home online in REAL TIME!
Listing Power Tool's full range of marketing materials orderd and customized for your home, including thick stock, glossy flyers with color photos, folding business cards, postcards, thank you cards, sign riders with a unique phone number, and texting/SMS services with unique text number.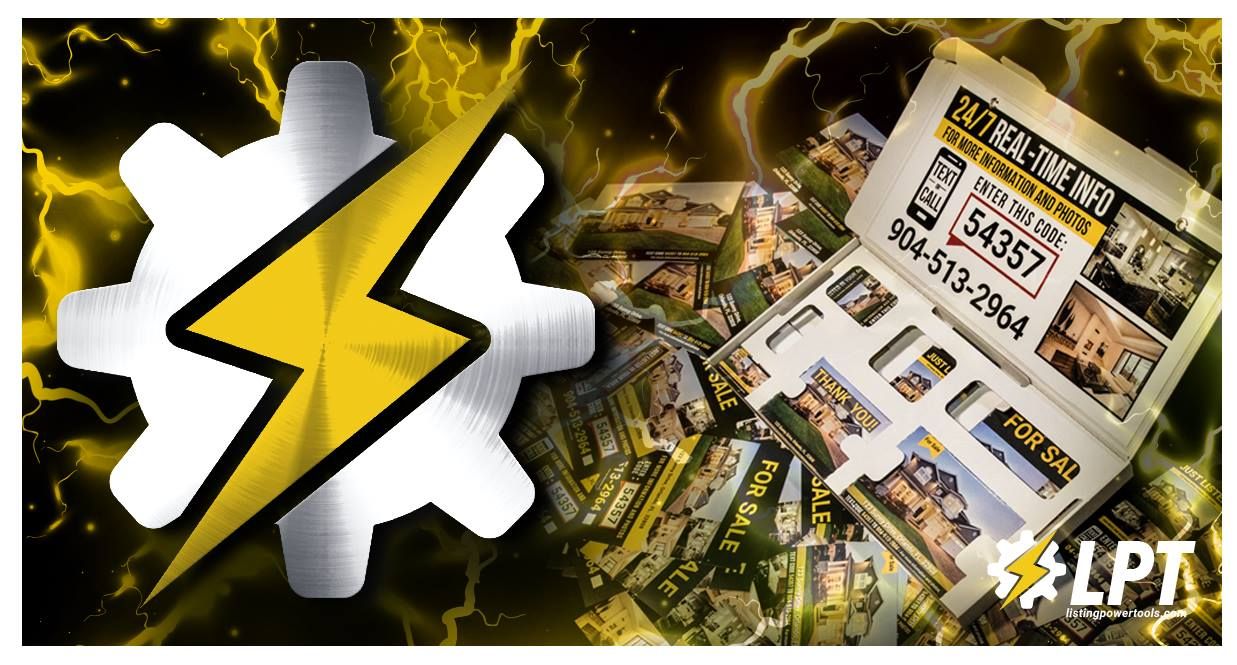 Post MLS Marketing and Service:
Personalized concierge center to schedule showings and assist in gathering feedback from buyers and agents.
Structured processes to maximize the amount of feedback we get from showings (4X's text, 4X's call, 4X's email). Industry average is 25%, and we receive feedback from over 80% of our showings!
Structured communication system to ensure you receive all showing feedback, market updates, and marketING updates. You will never feel like you're in the dark.
Daily prospecting by our team of inside sales agents, who make about 500 contacts every week promoting our home listings.
Professional closing coordinator once we're under contract.
Gold Package Includes All of the Above Except:
Matterport 3D Virtual Tour Not Available At Gold Package Level.
200-300 phone calls (instead of 500-1000).
Up to 1000 calls and voicemail broadcasts (instead of 3-4000).
Door knocking reduced to closest 50 homes (instead of 100).
Reduced Facebook campaign budget. Estimated reach is 5,000-10,000. (instead of 30,000-45,000)
Postcard campaign reduced to 100 closest neighbors. (instead of 500)
Discounted consultation with professional stager instead of complimentary.
Weekly Marketing Report.
Traditional Open House vs. Premium Open House.
Complimentary virtual staging not provided.
Complimentary house cleaning not provided.




TESTIMONIALS

"You went above and beyond with your assistance in getting our property to the closing table. I'm convinced you couldn't have done anything more and no one could have worked any harder for us than you did." - Owen Lafave
"This is a fantastic team to work with! We just closed on a condo they listed for us and couldn't be happier! Sean helped us to price the condo correctly and we received a full price offer withina couple of weeks. The communication was great through the entire process and they took care of all of the details. We were very hands-off after hiring them as our realtor until we signed the closing paperwork.I believe they are a first-class group and completely professional." -@jillyea, Zillow.com
"My experience with you as an agent was very good. I think your enthusiasm and thoroughness plus willingness to go the extra mile and not just do the "expected" or "required" puts you inanother category that says you will be excellent and stand out in a field not always known foroutstanding personnel. It is true that the real estate agent/broker profession has its detractors being populated by many who treat it as a place to "just pick up that extra buck" if it falls into my lap and others who just don't have a clue what they are doing. You are not in that category." - Karen LaCount
From day one this group had it together. A flawless operation Sean runs with the help of his staff. My house had multiple offers within 4 days and a signed contract within a week. I am extremely busy with kids and work that Sean and his team made this sale effortless for me!Me and my family appreciate this, Thanks Sean! -@jenclemans from Zillow.com
Sean and I had a difficult process with individuals having to pull out of deals because of deaths in the family from the buyers. His marketing and due diligence was able to securemultiple offers and we were able to close in a timely fashion. If you are looking in south Tampa,Hyde park, or Harbour island, there is no one better -@joshrcentner from Zillow.com
"Sean provided invaluable assistance to us when we recently sold our condo. His knowledge of the value of the unit directed us to asking for the correct price which wasthousands above our original estimate. We sold the unit for three thousand more than theasking price."-@elevatorjim from Zillow.com
"This is a fantastic team to work with! We just closed on a condo they listed for us and couldn't be happier! Sean helped us to price the condo correctly and we received a full price offer within a couple of weeks. The communication was great through the entire process andthey took care of all of the details. We were very hands-off after hiring them as our realtoruntil we signed the closing paperwork. I believe they are a first-class group and completely professional." -@tampaappfan from Zillow.com
"I moved because of a transfer. My company gives a bonus if you sell your homeindependently within 45 days of listing. Not only did Sean and his team get us full asking price, but they did so within just a couple of weeks. Sean knew what a quick sell at top dollar meant to me and my family financially, and he and his team worked very hard to achieve it. Sean and his team are professional, responsive, and very knowledgeable. We couldn't have asked for a better result, or a better group to work with." -@audrasinger from Zillow.com.