Sean Ready - Curaytor Presentation
One of the keys to successful real estate marketing is having a database of individuals to whom you can market your listings. Email blasts are an effective and time efficient way to tell multiple people about a listing at once, and they can also be used to advertise your sales. Below I will show examples of successful eblasts my team devised and the number of views they received, as well as an explanation of what our goal was in sending that particular blast.
Email Blast Examples: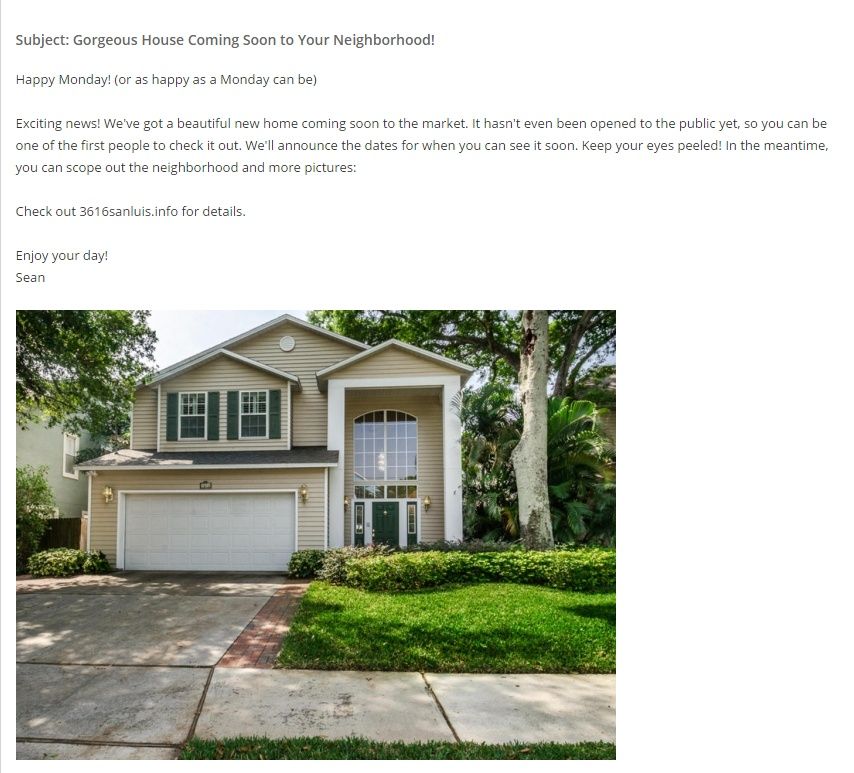 This is arguably the most common form of eblast that we sent out: a simple Coming Soon announcement for a new listing. We send these out a week before a listing is going to go live, followed by another email later containing the Broker's Open and Open House dates and times.
The second image is a screen shot of the numbers this email generates. It was sent to 2,844 people, 75 of the emails bounced, 657 of the people who received them opened the email, and of those people 226 clicked the link: 3616sanluis.info. 8 people unsubscribed. These numbers may seem low, but received a 1 in 4 click rate is actually extremely good for an eblast. The vast majority of people will delete an email if it doesn't pertain to them, hence the subject "Coming Soon to Your neighborhood."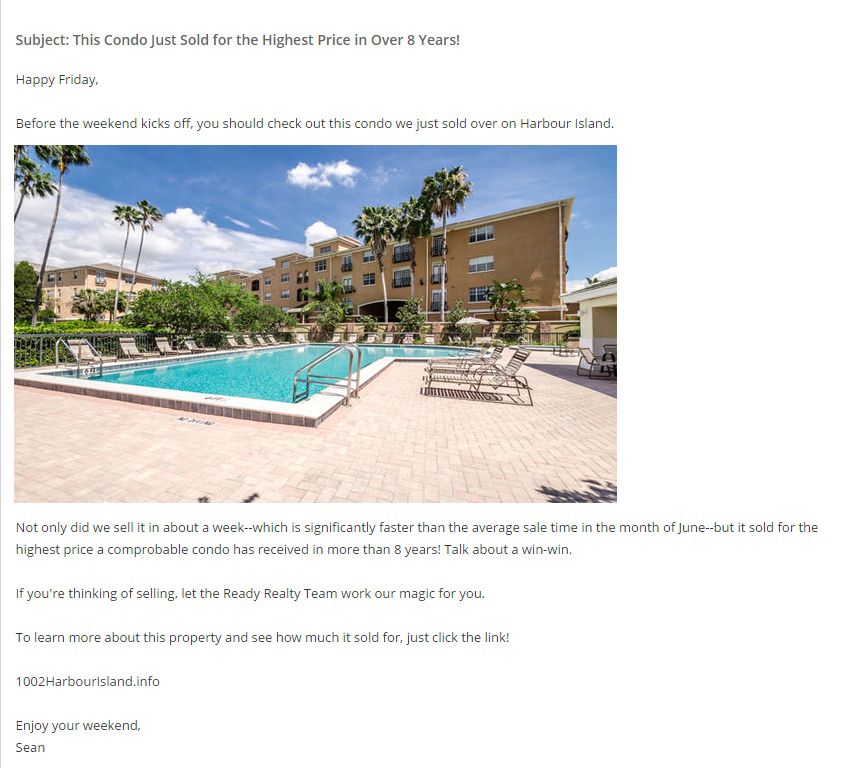 Another type of eblasts is a Just Sold eblasts. Where Coming Soon eblasts are designed to bring in buyer leads, Just Sold eblasts generate seller leads. These emails are designed to let your database know that you sold a listing quickly and for top dollar. It's a particularly good idea to use examples that sold to multiple offers, over asking price, and within days.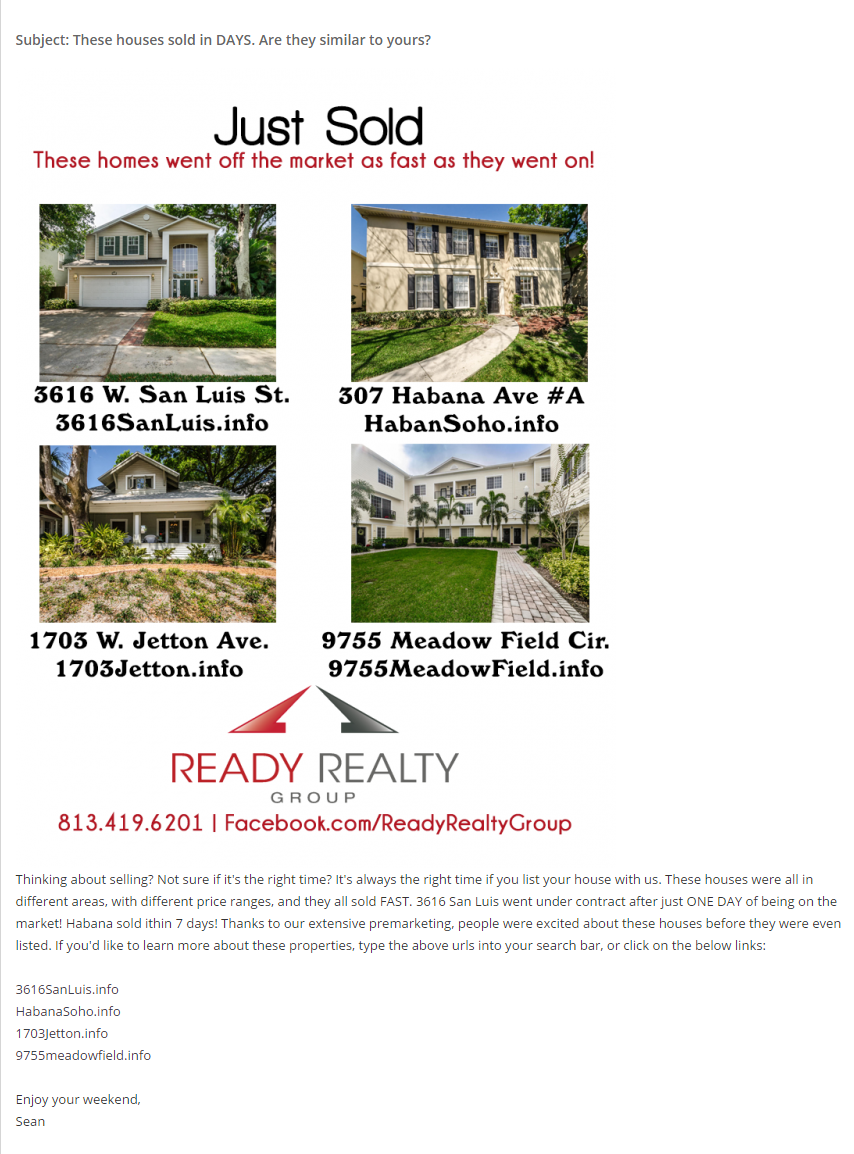 Infographics, charts, and other promotional materials can be used to add visual appeal to your eblasts and also to talk about multiple listings at once. It's unwise to clutter an eblast with long lists of pictures, so arranging them in an image can save space.

Asking a question in the title encourages more views!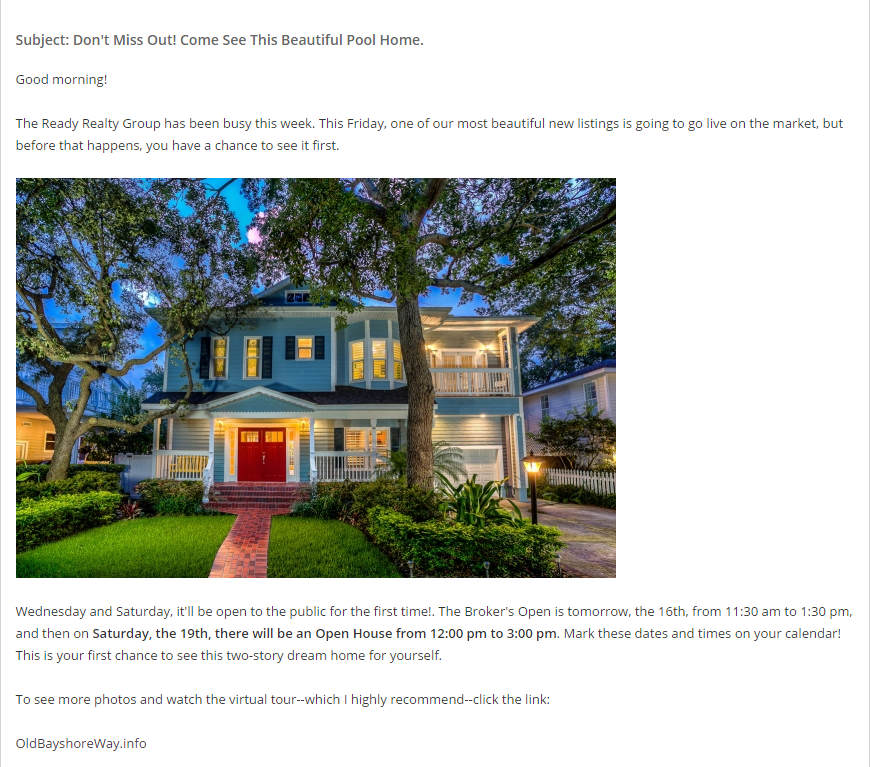 Create a sense of urgency by emphasizing to your database that this is their ONE chance to see the property BEFORE it hits the market. People love to feel like they're getting the inside scoop!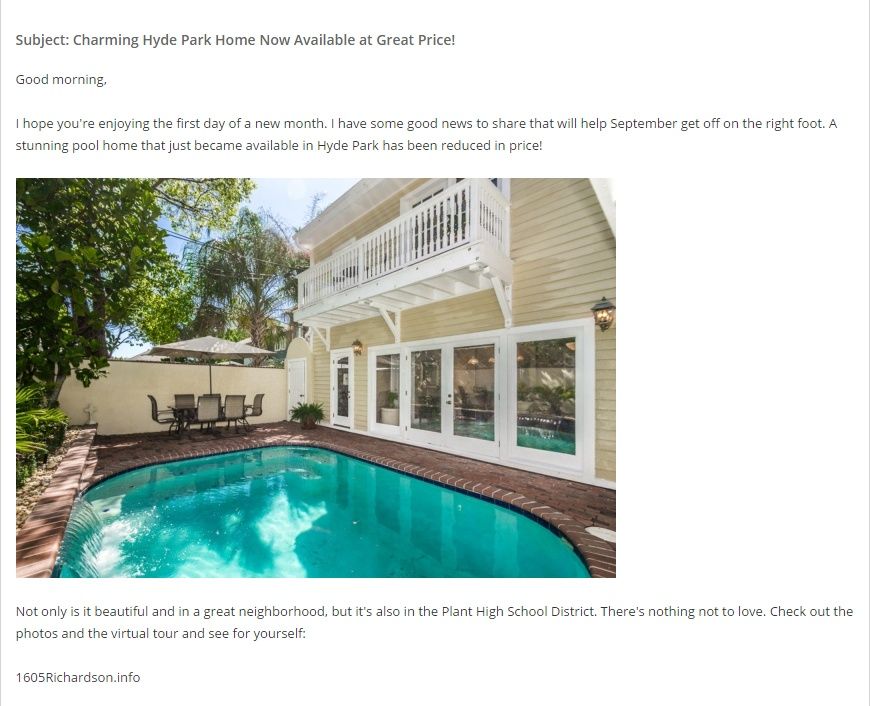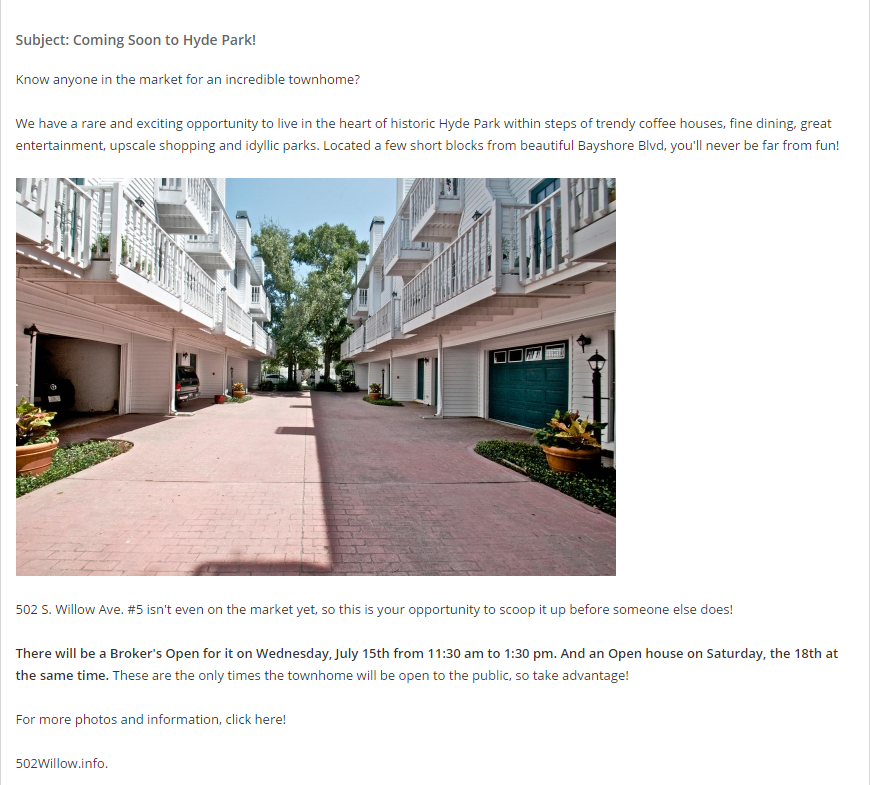 Eblasts that mention a specific neighborhood, especially an affluent one, get more views. People are interested in seeing photos of nice houses and are more likely to read emails that mention nice neighborhoods. One you've got them reading, reel them in with Open House dates and statistics from your last big sale!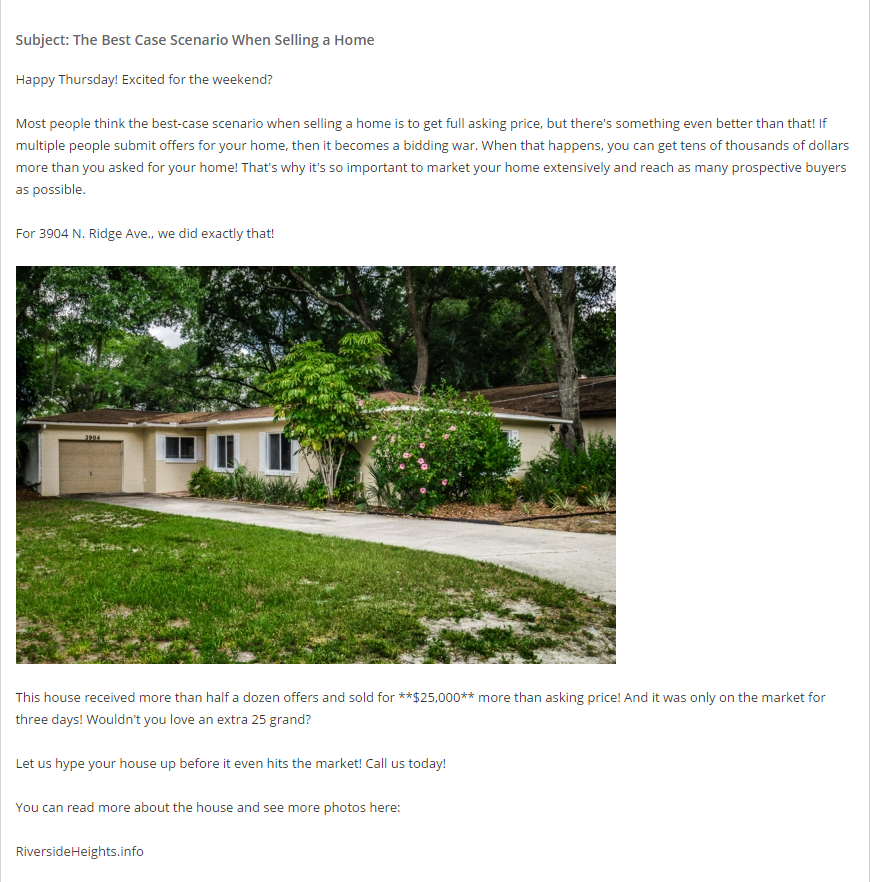 Sometimes with eblasts, less is more. It's good to have subjects that read, "This home sold for 127% of asking price!" because they're attention grabbing, but people know when they're being sold. Sometimes it's better to take a subtle approach. It gets people curious, and then once you've gotten them to read, you can brag about the multiple offers you received and how the home sold in just a few days.


Tempting as it is to constantly blast your database with information about your listings, you have to keep in mind that not everyone you know is currently looking to buy or sell. If you want to keep people from unsubscribing and stay in touch with them until they ARE ready to sell, you must provide a service to them. Tell them about changes in the market, or like in the above example, tell them things that could affect their home value.
Referrals

Here's an example of an email asking for referrals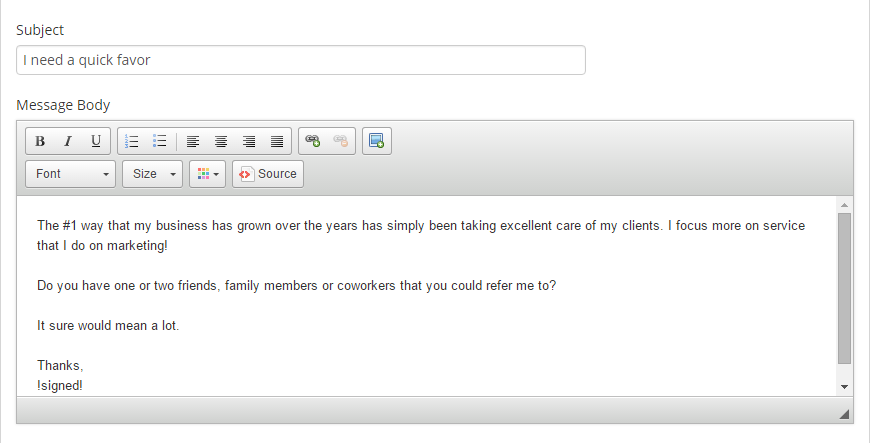 And then once your clients send you referrals, and them to your Referral Board.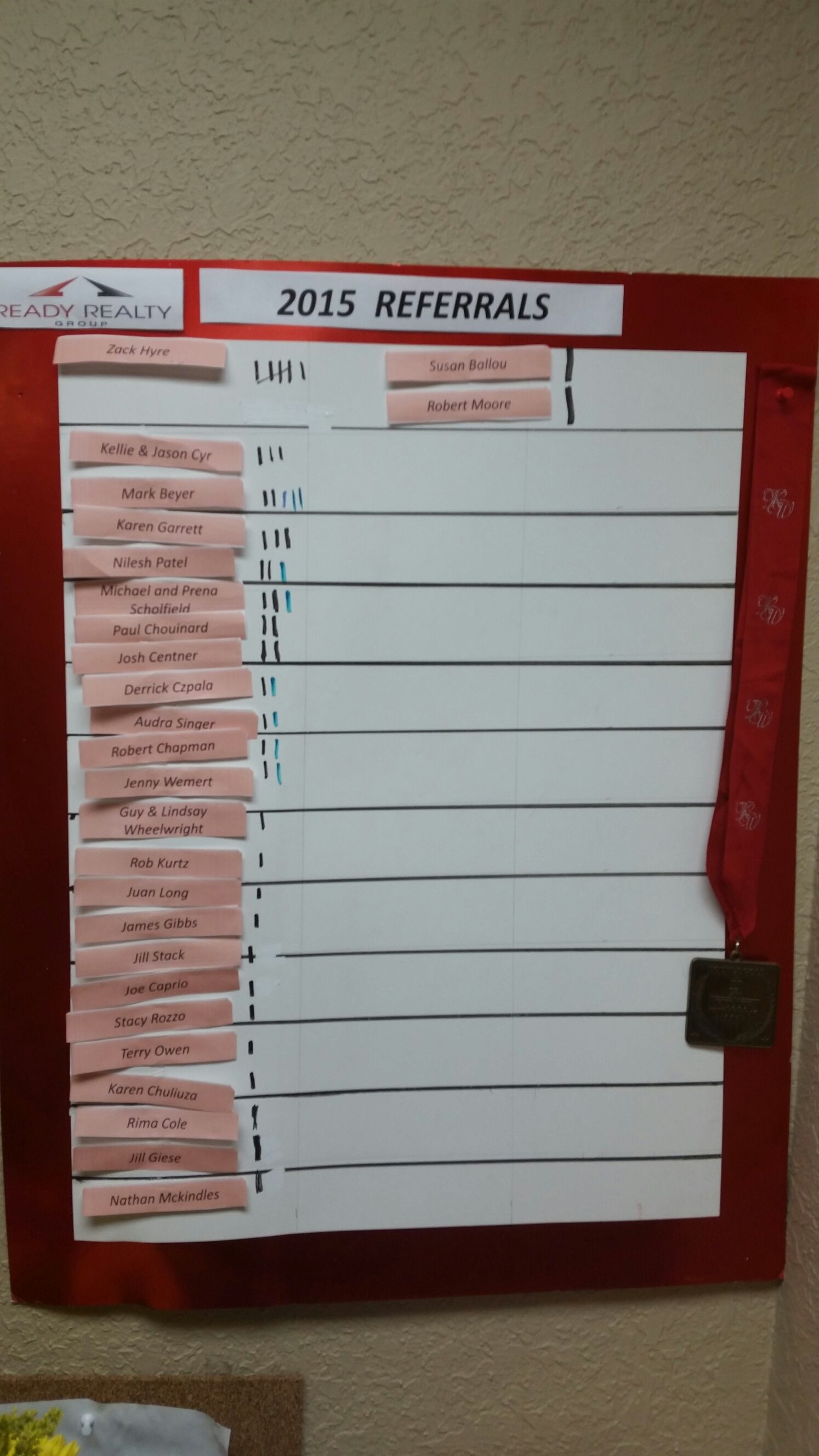 Then, every Quarter, host a Client Appreciation Party where you raffle off gifts to the people who referred you! Make the prizes good, like Lightning Tickets or a mini iPad. These gifts will incentivize your clients to keep sending you referrals!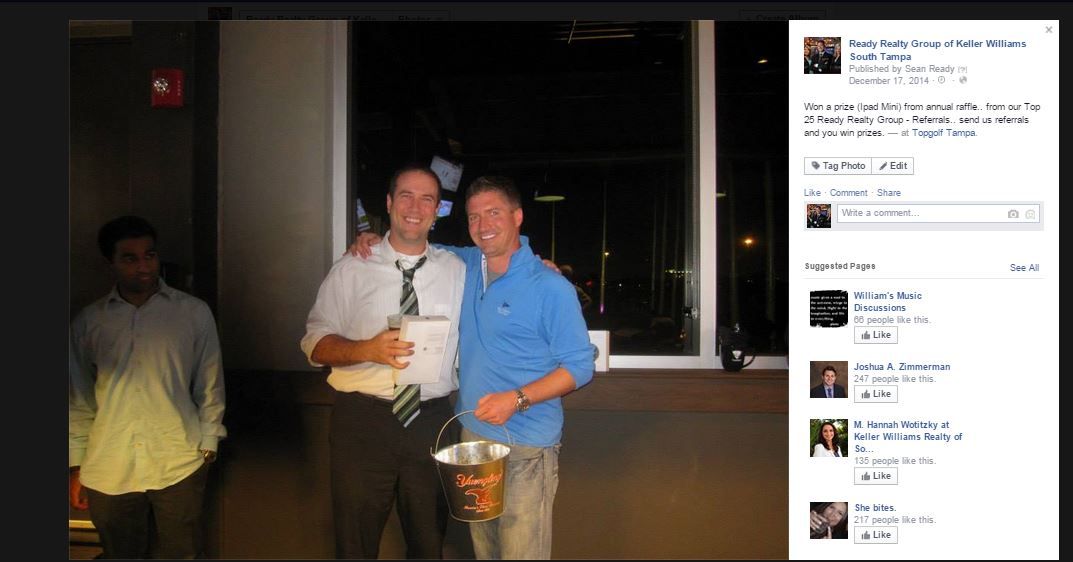 Rankings for Top Number of Leads and Listings
Our #1 source of listings:
Repeat Clients
Expireds and Farming
Circle Prospecting
FSBO
Referral Sphere
Our #1 Source of Leads:
Expireds
Request for Home Evaluation Through Facebook Ad
FSBO
Listings to Leads
Social Media Examples:
There are many different kinds of social media posts, same as with eblasts. Each has a different intent, whether it's to get buy leads, seller leads, to inform, to provide a service, or just to make the people who follow you laugh. Below are examples of each of the types of posts you should make if you want a successful Facebook business page.